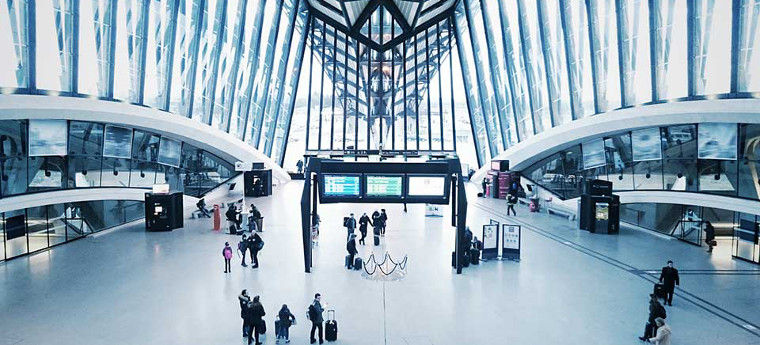 Content and objectives
The "Advanced Master" Airport Management was set up in 1989 by ENAC in response to requests from professionals in this field. The particularly important role played by airports within the framework of the liberalisation of air transport, the opening up of ground handling to competition, the wide range of activities involved in airport operations, the increasing importance of questions of security and environmental impact, and the competition between different airports, economic problems in general and those specific to an activity sector which today plays a major role in the national economy, are all factors which call for highly skilled managers to run and develop every airport. This "Advanced Master" aims at training these specialists, so much appreciated and sought after by the airport sector.
Professional prospects and career opportunities
Training given through the "Advanced Master" in Airport Management prepares students to hold the full range of positions of responsibility within airport management: operations, marketing, management, finance, human resources...
Program
Duration of course: October to September
1st semester
15 modules of 1 et 2 weeks each (October to March)
AM01 - Aircraft and Air Transport System
AM02 - International and European Air Transport law
AM03 - Air Transport Economics
AM04 - Air Transport Security
AM05 - Sustainable development of air transport
AM06 - Airport Design and Operation – Master Plan
AM07 - Airport Certification and Safety
AM08 - Passenger's and freight terminals
AM09 - Developing Extra Aeronautical Activities
AM10 – Human Resources Management
AM11 - Team Management
AM12 - Airport Financial Management
AM13 - Airport operation and quality of service
AM14 - Airport Crisis Management
AM15 - Ground Handling
AM16 - Airport strategy
("AM" stands for "Airport Management)
2nd semester
(April to September)
Students carry out a professional thesis in a professional environment or in a laboratory, either in France or abroad and are supervised by a tutor from the host organisation and by an ENAC professor. The thesis is concluded by the preparation of a report and an oral presentation in front of a combined jury.
Application

Selection and admission are managed by committees organized from February to July.
Applicants for an "Advanced Master" program must have a master's degree in science or in engineering or management according to selected program, or a Bachelor's degree with at least 3 years of professional experience.
Requested language qualification :
BULATS : 60-74
TOEIC : 785-944
TOEFL (IBT) : 87 - 109
TOEFL (CBT) : 180 – 226
TOEFL (PBT) : 505 – 564
CAMBRIDGE : First (FCE) Business Vantage (BEC)
IELTS : 5 – 6
PTE : 3
DCL : D2
CLES : 2
CERCRL : B2
Selection and admission made by admission committees organized from January to July.
Contacts
Course director:
Nicolas Lamballe : nicolas.lamballe@enac.fr
Postgraduate programs Manager :
Michel Chauvin : michel.chauvin@enac.fr
+33 (0)5 62 17 46 71